I have just spent the day with the fabulous Emma Leonard who is a very talented silversmith. She is a Dorset based jewellery designer and maker.
 When Emma isn't working on her own designs she teaches others how to make jewellery. For Christmas I was brought a gift voucher to spend a few hours learning the art of working with silver. To this workshop I took along a piece of blue sea glass, which I had picked up last summer on a Cornish beach hoping to craft it into a ring of some sort.
 This went very well and I am now completely in love with the finished product! Learning all the different stages that go into something that is so personal has been a fantastic learning curve. I really enjoyed working with silver it is surprisingly malleable which I wasn't expecting.
This was a wonderful present and I really recommend workshops like this to anyone it was such fun!
This is a link to Emmas website: http://www.emma-leonard.co.uk/  
Here are a few photos to show different stages of the making process…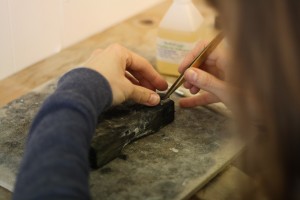 1. Shaping the silver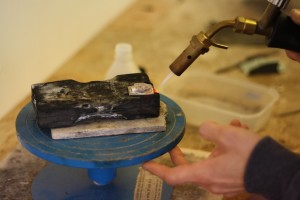 2. Soldering the ring wall to the base
3. File down the base to the outside of the silver wall